The nursery has a stringent policy that incorporates equality and diversity, ensuring that all users of the nursery comply with good practice and have ownership of the centre. It is our belief that no child, individual or family be excluded from activities on the grounds of age, gender, sexuality, class, disability, colour, ethnic origin, culture, religion or belief.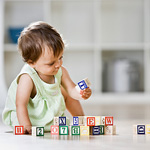 Both the boys and girls are encouraged to play football and play with the trains.

Within the nursery we have books and jigsaws which reflect cultural diversity. We take seriously any incidence of name-calling or bullying and the children know that this behaviour is unacceptable.

We as staff practise in an anti-discriminatory way in order for the children in our care to feel positive about themselves and their achievements. We do our best to avoid the limitations of racial and gender stereotyping, to value diversity and to target disability discrimination. Because of our principles and values the children are provided with the opportunities to develop in an environment free from prejudice and discrimination. We do topic-based activities such as "ME MYSELF AND I", helping the children to respect and accept differences in appearance, as well as celebrating cultural festivals.

At Tom Thumb nursery we welcome all children and families with special needs helping to make them feel included, secure and valued. We have a SEN Policy and we work in accordance with the Disability discrimination Act 1995 and the DFEE Code of practice on Special Educational Needs.