The Butterfly room is for children aged 1-2 years.

The Owls room is for children aged between 2-3 years.

The Badgers room is for children aged between 3-5 years.

We provide a mixture of structured,one-to-one work and free play.

Sand, water, playdough, puzzles, building blocks, shape sorters and construction toys help the children to develop the concepts of form, shape, size,and texture so that they learn as they play.

The nursery has different areas including a home cornor providing the children with a secure and comforting play space.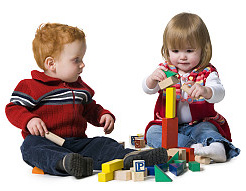 Cooking equipment and play foods reflect a variety of cultural preferences. A dressing up area provides the children with an opportunity to extend their role play. Painting ,sand and water play are available together with a computer which is switched on throughout the day.

There is a book room for quiet reading time away from noisy play areas. Within the daily routine the children move freely from room to room, taking part in activities set out both indoors and outdoors.

Reading, writing and numbers are introduced in a lively way though songs, stories and games.

Creative expression is encouraged through arts and craft, cooking, singing and imaginative play. Drama and music classes are available at a small additional charge.

Our large playground provides the children with fresh air. A covered area enables the children to play in poor weather conditions. There are plenty of opportunities for physical play on climbing frames, slides and bikes ensuring that the children- get as much exercise as possible in order to strengthen and develop their muscles.

The children are encouraged to set up the rooms with the toys that they would like to play with. We offer the children the choice of indoor & outdoor play because we have a large outside play area we are able to provide the same activities outside as we have inside.